Glow-in-the-Dark
Creatures
From the skies above us to the deepest oceans, our world is full of twinkling, flashing, blinking and glowing lights. Whether it is the gentle dance of fireflies in the air or the explosion of colours and patterns in the deep sea, this light show is the silent language of remarkable creatures.
° Find out which land and sea creatures make light.
° Discover why bioluminescence is so important in nature.
° Examine the chemical process that occurs to make creatures glow.
° Learn why different creatures create different colours.
° Discover how scientists are harnessing the powers of bioluminescence for human uses.
° Make glow-in-the-dark slime, create a firefly-squid necklace and learn how to catch fireflies.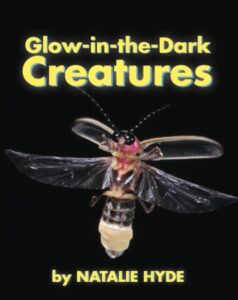 2015/16 Silver Birch Non-Fiction Award

"This well-researched and well-written book is sure to fascinate your junior nonfiction fans. What's not to like about creatures – plant and animal – that glow in the dark? Glow-in-the-Dark Creatures includes a table of contents with chapter headings and subheadings. The subheadings are designed to pique the interest of young readers with titles like "Fire Breathing Shrimp" and "Twinkle, Twinkle, Little Death Trap".The photographs throughout the book add greatly to the appeal of the information presented.                                                          Glow-in the Dark Creatures will make a good addition to your library's science collection."
CM Magazine – Highly Recommended
"…a great educational volume for children who want to learn more about animals that create their own light."                                                                                                                                  
Shelf Life Magazine
"The text is colourfully illustrated with intriguing photos and related diagrams. Information is presented in short, concise paragraphs, with topics highlighted in red type. Added facts appear inside light bulb shaped diagrams with the title "Use of Bioluminescence". Many pages also contain out-lined boxes containing scientific information. Overall the layout on each page is very appealing…This informative text should prove to be a very useful addition to a school library resource centre as well as for classroom studies and discussions."
Excellent Rating- Resource Links Magazine